EASY PAY DEBIT, EASY TO SAVE,
EVERY DAY, ON EVERY GALLON
Enroll today to save 30¢ per gallon on your first 100 gallons AND $0.10 on every gallon there after!
Are you a business driver? We have the best fueling solution for your business.
Visit Circle K Pro today to learn more.
signing up for easy pay is easy
Here's how it works:
Step 1: Pick up an Easy Pay card
You can find Easy Pay cards at participating Circle K store.
Step 2: Link the card to your checking account
Your Easy Pay card will act as a debit card for your checking account. You'll be able to sign in directly to your bank's website to connect it.
Step 3: Start saving money in a safe & secure way!
Save 30¢ per gallon on your first 100 gallons of fuel, and $0.10 per gallon after that. You'll be required to enter your PIN at the start of each transaction to ensure the protection of your account.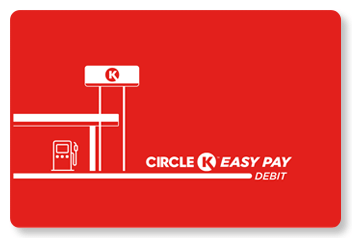 ENROLL NOW