Circle K's success in the convenience retailing industry spans more than 60 years. Our roots trace back to 1951 when Fred Hervey purchased three Kay's Food Stores in El Paso, Texas. Little did anyone know that these stores would serve as the beginning of Circle K.
During the early years, Hervey's enterprising spirit enabled the company to make its mark in the southwestern part of the United States. He grew the Circle K chain into neighboring New Mexico and Arizona.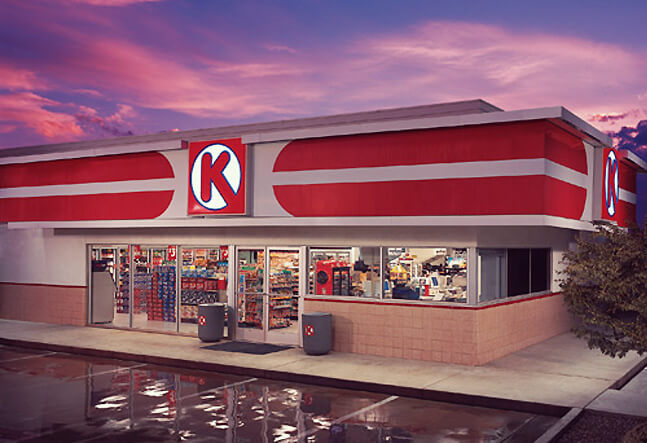 International market
During the next few decades, Circle K grew its retail network through a series of acquisitions, which were incorporated into the Circle K brand. By 1975, there were 1,000 Circle K stores across the U.S. In 1979, Circle K entered the international market when a licensing agreement established the first Circle K stores in Japan. The company's growth continued and, by 1984, sales had reached $1 billion.
In 1999, a franchise program was introduced to support operators looking to build a business with a leading convenience store brand. In 2003, Circle K was acquired by Alimentation Couche-Tard and has developed into a global brand represented in over 20 countries.
Circle K has become one of the most widely recognized convenience store brands, known worldwide for quality products and great customer service. We have come a long way since our humble beginnings, and we're proud of where we've been and where we're going. Please visit our timeline to learn more about the Circle K story.
Timeline
2017

Continued roll-out of Circle K global brand to Canada (Ontario, Manitoba, Saskatchewan, Alberta, British Columbia, and the Maritimes), Latvia, Lithuania, Estonia, and Poland

2016

Roll-out of Circle K global brand in Norway, Sweden, and Denmark

2015

Circle K is launched globally - the world's preferred destination for convenience and fuel.

Click on this link to find out more about the global brand launch.

2012

First Circle K President and convenience store icon John A. Gillett, Jr., passes away at the age of 87.

2011

Bigger and better than ever, Circle K celebrates its 60-year anniversary.

2008

Circle K heads overseas, adding licensing for stores in the Social Republic of Vietnam through GR Vietnam International Limited.

2005

250 Circle K stores are scheduled to be opened in Mexico by a subsidiary of Grupo Kaltex, S.A. de C.V.

2003

The company launches a new creative campaign for the Circle K brand with the tagline "What Else Do You Need?"

Alimentation Couche-Tard Inc. acquires The Circle K Corporation

2002

Phillips Petroleum Company and Conoco Inc. merge to create ConocoPhillips, head- quartered in Houston, Texas. ConocoPhillips becomes the new owner of Circle K.

2001

Circle K celebrates 50 years of fast, friendly service.

Phillips Petroleum Company, headquartered in Bartlesville, Oklahoma, acquires Tosco Corporation and the Circle K brand.

1999

Fred Hervey, Circle K's founder, dies at the age of 90 in his hometown of El Paso, Texas.

1998

Thirst Freezer®, the Circle K proprietary brand of frozen beverages, is introduced. Circle K is named the "Official Pit Stop of NASCAR." The Circle K Domestic Franchise Program is launched.

1997

The Arizona Republic votes
Circle K coffee the "Best Cup of Coffee" in Phoenix.

1996

Circle K is acquired by Tosco Corporation, an independent petroleum refiner and marketer. The company keeps its headquarters in Phoenix, Arizona.

1995

Circle K completes an initial public offering of 6.5 million shares of common stock. The company stock is traded under the symbol CRK on the New York Stock Exchange. Circle K launches Emily's Meals & More, a new business venture in the home meal replacement category.

Circle K forms a marketing alliance to sell 76-branded gasoline at stores in Arizona and Nevada.

1994

The tagline "Circle K – A Better Way" is introduced.

1993

The company is purchased by Investcorp, an international investment group, and emerges from bankruptcy. The tagline "Circle K – We're on the Way" is introduced.

1990

After years of rapid expansion and learning the hard lessons of 1980s corporate economics, Circle K files for Chapter 11 bankruptcy protection.

1984

Sales reach the $1 billion mark.

Sales reach the $1 billion mark. Circle K adopts United Cerebral Palsy (UCP) as its national charity and begins fundraising efforts in its stores.

1983

The Thirst Buster® fountain drink is introduced.

Circle K acquires 960 UtoteM stores doubling the company's size.

1979

Circle K signs its first licensing agreement with a Japanese retail chain.

1975

The 1,000th store is opened on Christmas Day in Lehi, Utah.

1971

The Foodservice Division is introduced and sandwiches are made in the company's fast food kitchen. The company marks its 20th anniversary with the opening of its 500th Circle K store in Deer Valley, Arizona.

1965

Circle K opens its 200th store in Tucson, Arizona.

The "Pepe" logo is introduced illustrating a young boy dashing to the nearest Circle K store.

1957

Circle K expands into New Mexico and Arizona

1951

Fred Hervey purchases three Kay's Food Stores in El Paso, Texas - stores which served as the beginning of Circle K