Coca-Cola® and Circle K Atlantic- Powerade Summer Contest Canada
Official Rules
NO PURCHASE REQUIRED TO ENTER OR WIN.
1. Eligibility: The Coca-Cola® and Circle K Atlantic - Powerade Summer Contest Canada (the "Contest") is open only to legal residents of Nova Scotia, New Brunswick, Newfoundland and Labrador and Prince Edward Island ("Atlantic Provinces"), who are 16 years or older at the time of entry except the employees, officers, directors, representatives and agents of Coca-Cola Ltd., The Minute Maid Company Canada Inc., Coca-Cola Canada Bottling Limited, Couche-Tard Inc., and Circle K, the authorized bottlers or distributors of Coca-Cola® products, its and their respective advertising and Contest agencies, or any of the respective affiliates, related entities, successors or assigns or persons domiciled with any of the above. If you are under the age of 16, you must have the permission and consent of your parent/legal guardian to participate in this Contest. The Contest is subject to all applicable federal, territorial, provincial and municipal, laws and regulations and is void in Quebec and where prohibited by law.
2. Sponsor: Coca-Cola Ltd., 335 King Street East, Toronto, ON, Canada M5A 1L1.
Administrator: Couche Tard Inc., 825, Lebourgneuf Boulevard, Office 304, Québec, G2J 0B9
3. Agreement to Official Rules: Anyone who participates in the Contest ("Entrant"), fully and unconditionally agrees to and accepts the terms and conditions of these official rules ("Official Rules") and the decisions of the Sponsor and Administrator, which are final and binding in all matters related to the Contest.
4. Contest Period: The Contest begins May 1st,, 2019 at 12:00:01 a.m. Atlantic Standard Time ("AST") and ends on June 4th, 2019 at 11:59:59 p.m. AST (the "Contest Period"). Administrator's computer is the official time-keeping device for this Contest.
5. How to Enter: Option 1: To enter, purchase three (3) qualifying Powerade products at participating Circle K store in the Atlantic Provinces during the Contest Period and save your receipt. The list of qualifying Powerade products is attached as Schedule A to these Contest Official Rules. Next, go to the official Contest website at www.circlek.com/ca/atlantic. Click on the contest button to access the entry form, read and accept the Contest Official Rules, fill in the participant identification section, (with the following personal information: first name, last name, phone number, e-mail address, full address of residence) and enter the PIN found on the receipt to register to have one (1) chance to win the Grand Prize ("Entry"). Each PIN you register on the official Contest website will give you one (1) Entry.
Option 2: To obtain a PIN without purchasing a product, please print your name and full address, including city, province, and postal code, as well as your telephone number (with area code), your date of birth and your e-mail address on a plain white piece of paper and mail it (in an envelope with sufficient pre-paid postage) to '' Powerade Summer Contest Canada – Request for PIN No Purchase'' at:
Couche-Tard Inc.
Attn: Customer Service Department
4204 Boulevard Industriel,
Laval (Qc)
H7L 0E3
(a ''Mail-in Request''). Upon receipt of your Mail-in Request in accordance with these Official Rules (as determined by the Sponsor in its sole and absolute discretion), the Contest Administrator will enter your participation request and send participation confirmation to the email address written in
your letter. To be eligible, your Mail-in Request must be post-marked during the Contest Period and received by no later than five (5) business days after the close of the Contest Period. The Organized takes no responsibility for any lost, stolen, delayed, illegible, damaged, misdirected, late or destroyed Mail-in Requests. Limit of one (1) PIN per Mail-in Request. Each Mail-in Request must be mailed in a separate envelope bearing sufficient postage.
In the event of a dispute regarding the identity of a participant, the entry will be deemed to have been submitted by the individual to whom the e-mail address assigned by the ISP belongs. All entries become the exclusive property of the Organizer and cannot be returned.
6. Contest Prize Selection and Draw Date: June 13, 2019
On June 13, 2019 at 10 AM ET, Administrator of Couche-Tard Inc. in Quebec will randomly draw the selected prize winner from among all eligible entries received during the Contest Period. Prizes must be accepted as awarded, may not be replaced, transferred, exchanged or awarded for cash, except at the absolute discretion of the Administrator, who reserve the right, for any reason whatsoever, to award any or all of the prizes in whole or in part of equal or greater value, including a cash prize. One (1) prize is allowed per household. Odds of winning depend on the total number of eligible entries received during the Contest Period.
7. How to claim a prize: If you are selected as a potential prize winner, you will be notified by phone or email within five (5) business days of selection. Once notified, the potential winner must provide a response to the Administrator or its authorized representative within five (5) business days. Potential winners answer correctly, without assistance, whether in mechanical, electronic or other form, to a mandatory mathematical skill-testing question, must sign a declaration of compliance and release (the ''Release'') and return it to authorized agent of the Administrator by fax or email within five (5) business days of receipt thereof and otherwise comply with these Rules.
Prizes will only be awarded to the confirmed winner. If a potential prize winner a) fails to correctly answer the mathematical skill-testing question, b) fails to properly complete the release and return it on time, c) does not comply with these Rules (as determined by the Organizer or its authorized agent will attempt to contact the eligible winner up to three (3) attempts, does not provide a response within the timeline described above, or if a notice is received indicating the message could not be delivered or remains unanswered, the winner will be excluded from the contact (and will forfeit all rights to the prize) and another random draw will be made for a winner of that prize to be selected.
The Contest Administrator or Sponsor take no responsibility after delivering the prizes, and each winner must assume the risk of loss or damage to the prize after shipping. The Administrator and Sponsor make no representation or warranty of any kind with respect to the appearance, safety or performance of any prize.
8. ALL POTENTIAL WINNERS ARE SUBJECT TO VERIFICATION BY SPONSOR OR ADMINISTRATOR, WHOSE DECISIONS ARE FINAL AND BINDING IN ALL MATTERS RELATED TO THE CONTEST. AN ENTRANT IS NOT A WINNER OF ANY PRIZE, EVEN IF ENTRANT RECEIVES AN EMAIL MESSAGE SAYING HE OR SHE WON, UNLESS AND UNTIL ENTRANT'S ELIGIBILITY, AND THE POTENTIAL WINNER HAS BEEN VERIFIED AND ENTRANT HAS BEEN NOTIFIED THAT VERIFICATION IS COMPLETE. SPONSOR WILL NOT ACCEPT SCREEN SHOTS OR OTHER EVIDENCE OF WINNING IN LIEU OF ITS VALIDATION PROCESS.
NOTE TO MINORS: A participant who is a Minor (as defined below) in his/her province of residence may enter this Contest and provide information only with the explicit consent of his/her parent or legal guardian. Furthermore, all of these Contest's Official Rules shall apply both to the Minor and to the Minor's parent or legal guardian. The Contest Sponsor reserves the right, in its sole and absolute discretion, to contact the parent/legal guardian of any eligible Entrant
who is under the age of majority in his/her province of residence (a "Minor"), at any point during the Contest, for the purposes of verifying such parent or legal guardian's: (i) agreement to be legally bound by these Contest's Official Rules; (ii) consent to the Minor's participation in this Contest; and/or (iii) consent to the collection of the Minor's personal information. If the Minor refuses to provide his/her parent/legal guardian's contact information at the request of the Contest Sponsor, then such Minor shall be disqualified, at the sole and absolute discretion of the Contest Sponsor.
If a Minor is selected as a potential winner of a Prize (as defined below), the Prize shall not be awarded unless both the Minor and the Minor's parent or legal guardian have signed and returned the Declaration and Release Form as defined in Rule 4 below. The Prize will be delivered to the winning Minor's parent or legal guardian. The collection of personal information of Minors is dealt with in the Contest Sponsor Privacy Policy, and the parent or legal guardian of a minor who wins the Prize shall be required to consent to the use of the Minor's personal information as described herein.
By entering this Contest, Entrants agree to be bound by these Contest's Official Rules and the decisions of the Contest Sponsor with regards to all aspects of this Contest, including without limitation eligibility and/or disqualification of Entrants and/or entries, which are final and binding (without right of appeal).
9. Verification of Potential Winners: Potential winners must comply with all terms and conditions of these Official Rules. Winning is contingent upon fulfilling all requirements. Administrator is an independent judging organization whose decisions as to the administration and operation of the Contest and the selection of potential winners are final and binding in all matters related to the Contest. Each potential winner will be required to correctly answer a time-limited, mathematical skill-testing question without any assistance to be eligible to receive a Prize. If any potential winner cannot be contacted or fails to answer the skill-testing question correctly, he/she may be disqualified and forfeit the Prize. If a potential winner forfeits a Prize or is disqualified for any reason, the applicable Prize will not be awarded.
MINORS: In the event that the Entrant selected as the potential winner of the Prize is below the age of majority in his/her province of residence, his/her parent or legal guardian will also be required to correctly answer a mathematical skill-testing question as a pre-condition of the Prize being confirmed and awarded.
10. Single PIN defective: Subject to the foregoing, If the unique PIN is illegible, non-compliant with these Rules or does not work, the person in possession of a defective single packaging / PIN may, during the Contest Period, apply for a new unique PIN by SAC@couche-tard.com (indicating ''defective single PIN'' in the application), subject to availability.
11. Prizes:
Item                                 CK Atlantic
Grand Prizes
    Personal Trackers                     10
Coaches Kit
    Beverage Cooler                       10
    Towels                                       10
    Clip Boards                               10
    Water Bottles                            10
Smaller Prizes
    Bluetooth Ear Buds                  10
    Towels                                      20
    Water Bottles                            20
    Powerade / year                        1                         
Prize value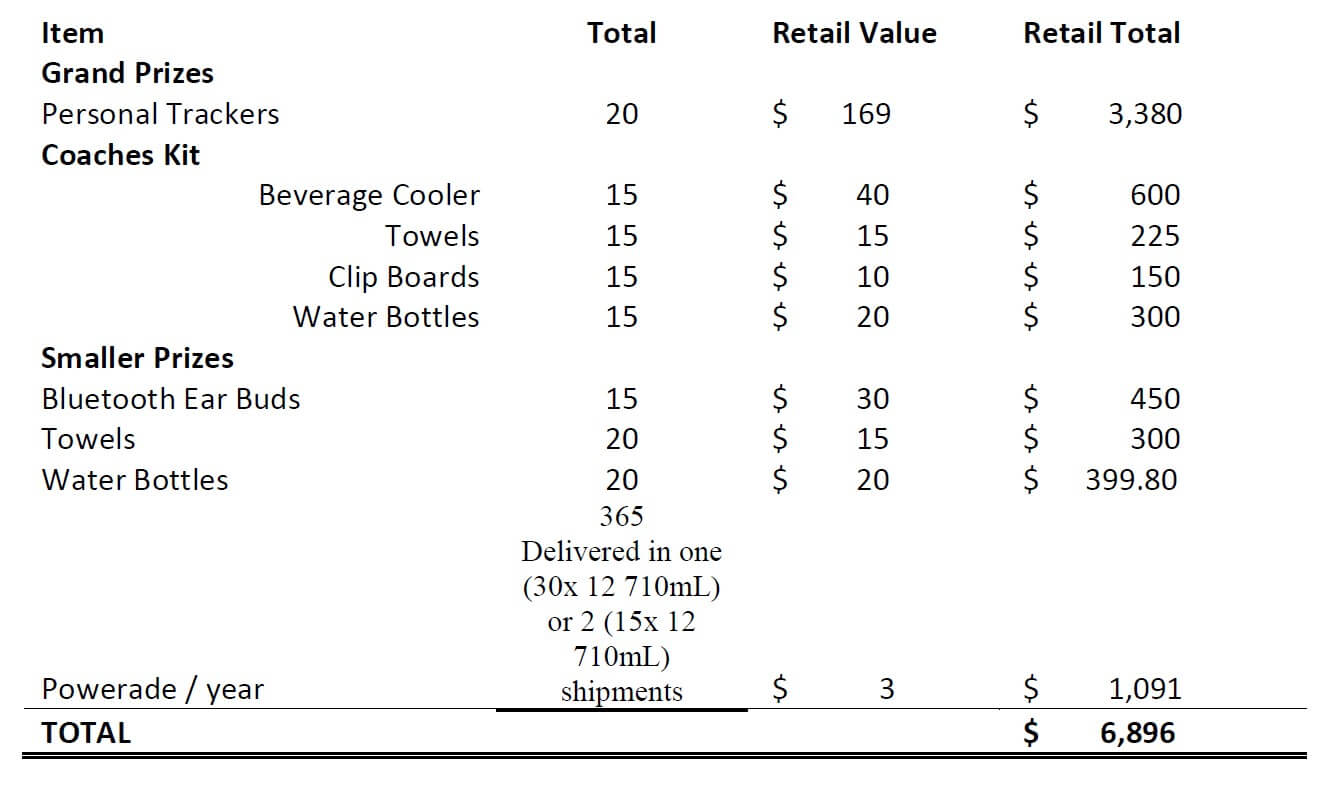 12. Prize Fulfilment: Prizes available to be won at the end of the Contest Period. Prizes are not transferable and must be accepted as awarded, with no substitutions of any kind, except at the Contest Sponsor's sole discretion. Limit one (1) Prize per person for the duration of the Contest Period. The number of prizes available to be won will diminish throughout the Contest Period as they are awarded throughout the Contest Period. Prize may not be exactly as shown in Contest advertising materials.
Prize draws to select a potential winner(s) will begin on;
June 13th, 2019
If a Prize is won by a minor, it will be awarded to the minor's parent or legal guardian. The parent or legal guardian of such a minor will also be required to accept and sign the Declaration of Compliance and Release (the "Release") on minor's behalf.
For All Prizes: Prize must be accepted as awarded and may not be transferred (except at the sole and absolute discretion of the Contest Sponsor), exchanged, assigned or refunded. Prize may not be substituted for cash. The Contest Sponsor reserves the right, in its sole and absolute discretion, to substitute the Prize with a prize or prizes of at least equal value (including, without limitation, at the sole and absolute discretion of the Contest Sponsor), in the event of the unavailability, for whatever reason.
Each winner is responsible for all taxes and fees, if any, associated with prize receipt and/or use.
Odds of winning a Prize depend on the number of eligible entries submitted and received in accordance with these Contest Official Rules during the Contest Period.
13. Publicity: Participation in the Contest constitutes Entrant's consent for Sponsor and its designees to use Entrant's name, prize information, likeness, and place of residence for Contest purposes in any media without further consideration.
14. General Conditions: In the event that the operation, security, or administration of the Contest is impaired in any way for any reason, including, but, not limited to, fraud, technical failures, regularly-scheduled maintenance, virus or other technical problem, the Sponsor may, in its sole discretion, either: (a) suspend the Contest to address the impairment, then resume the Contest in a manner that best conforms to the spirit of these Official Rules; or (b) cancel the Contest and award the prizes in a random drawing from among all eligible entries received up to the time of impairment. The Sponsor reserves the right in its sole discretion to disqualify any individual it finds to be tampering with the entry process or the operation of the Contest or to be acting in violation of the Official Rules of this or any other Contest, or in an unsportsmanlike or disruptive manner. Any attempt by any person to undermine the legitimate operation of the Contest may be a violation of criminal and civil law, and, should such an attempt be made, the Sponsor reserves the right to seek damages from any such person to the fullest extent permitted by law. The Sponsor's failure to enforce any term of these Official Rules shall not constitute a waiver of that provision.
15. Release and Limitations of Liability: Except where prohibited, by participating in the Contest, Entrants agree to release and hold harmless Coca-Cola Ltd., Coca-Cola Canada Bottling Limited, The Minute Maid Company Canada Inc., Circle K and/or Couche-Tard Inc., and their respective parents, subsidiaries, affiliates, Contest partners, prize partners, agents and agencies, and the officers, directors and employees of each of them (the "Released Parties") from and against any claim or cause of action arising out of participation in the Contest or receipt or use of any prize, including, but not limited to: (a) unauthorized human intervention in the Contest; (b) technical errors related to computers, servers, providers, printers or telephone or network lines; (c) printing errors; (d) errors in the administration of the Contest or the processing of registrations and game plays; (e) late, lost, or undeliverable mail; or (f) injury or damage to persons or property which may be caused, directly or indirectly, in whole or in part, from Entrant's participation in the Contest or receipt, use or misuse of any prize. Entrant further agrees that in any cause of action, the Released Parties' liability will be limited to the cost of entering and participating in the Contest and in no event shall the Released Parties be liable for attorney's fees. Entrant waives the right to claim any damages whatsoever, including, but not limited to, punitive, consequential, direct, or indirect damages. If for any reason an Entrant's entry is confirmed to have been erroneously deleted, lost, or otherwise destroyed or corrupted, Entrant's sole remedy is another code of entry, if it is possible. If the Contest has been discontinued for any reason, Sponsor, in its sole discretion, may elect to hold a random drawing from among all eligible entries received up to the date of discontinuance for any prize offered herein. No more than the stated number of prizes will be awarded. In the event that production, technical, seeding, programming or any other reasons cause more than the stated number of prizes as set forth herein to be available and/or claimed, Sponsor reserves the right to award only the stated number of prizes by a random drawing among all legitimate, un-awarded, eligible prize claims.
16. Disputes: Entrant agrees that: (i) any and all disputes, claims and causes of action arising out of or connected with this Contest, or any prizes awarded, shall be resolved individually, without resort to any form of class action, and exclusively by the Courts of Ontario, Canada; (ii) any and all claims, judgments and awards shall be limited to actual out-of-pocket costs incurred, including costs associated with entering this Contest but in no event legal fees or disbursements; and (iii) under no circumstances will Entrant be permitted to obtain awards for and Entrant hereby waives all rights to claim punitive, incidental and consequential damages and any other damages, other than for actual out-of-pocket expenses, and any and all rights to have damages multiplied or otherwise increased. SOME JURISDICTIONS DO NOT ALLOW THE LIMITATIONS OR EXCLUSION OF LIABILITY FOR INCIDENTAL OR CONSEQUENTIAL DAMAGES, SO THE ABOVE MAY NOT APPLY TO YOU. All issues and questions concerning the construction, validity, interpretation and enforceability of these Official Rules, or the rights and obligations of the Entrant and Sponsor in connection with the Contest, shall be governed by, and construed in accordance with, the laws of Province of Ontario, without giving effect to any choice of law or conflict of law rules (whether of the Province of Ontario or any other jurisdiction), which would cause the application of the laws of any jurisdiction other than the Province of Ontario.
Abbreviated Official Rules
NO PURCHASE NECESSARY. The Contest begins on May 1st, 2019 at 12:00:01 a.m. Atlantic Standard Time ("AST") and ends on June 4th, 2019 11:59:59 p.m. AST (the "Contest Period"). The Coca-Cola® and Circle K Atlantic- Powerade Summer Contest - Canada (the "Contest") is open only to legal residents of Atlantic Canada, who are 16 years or older at the time of entry. For Official Rules, method of entry, and complete details, visit www.circlek.com/ca/atlantic
 
Schedule A – Participating products with UPC codes: